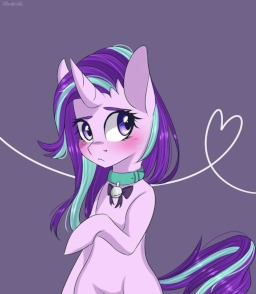 Alternate take on Season 5 premiere:
What if the Mane Six followed Starlight into the cave? What if they caught her instead of letting her get away? What if there was also a human living back in Ponyville who had trouble making friends?
This story is an "adopted" story of my friend TheHardie-Boy's story of "Caught and Punished", and that story was inspired by Slave Starlight written by titanictime2
The prologue and chapters 1-4 are from TheHardie-Boy's version, but with some minor edits. Chapter 5 and the chapters afterward are completely written by me. Despite the "Sad" tag, this isn't going to be a downer story and it will have a number of light-hearted moments. There will still be some sad moments, of course.
Special thanks to TheHardie-Boy for giving suggestions to the story and proofreading the prologue, chapters 1, 2, 8, 11, 12, and 32, and flutterJackdash for editing chapters 3 and 5.
Chapters (34)