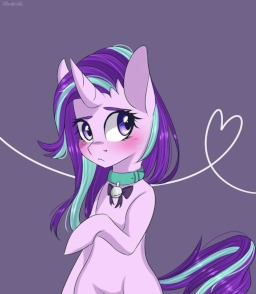 Alternate take on Season 5 premiere:
What if the Mane Six followed Starlight into the cave? What if they caught her instead of letting her get away? What if there was also a human living back in Ponyville who had trouble making friends?
This story is an "adopted" story of my friend's Donnnnn story of "Caught and Punished", and that story was inspired by Slave Starlight written by titanictime2
The prologue and chapters 1-4 are from Donnnnn's version, but with some minor edits. Chapter 5 and the chapters afterward are completely written by me. Despite the "Sad" tag, this isn't going to be a downer story and it will have a number of light-hearted moments. There will still be some sad moments, of course.
Special thanks to Donnnnn for giving suggestions to the story and proofreading the prologue, chapters 1, 2, 8, 11, and 12, and flutterJackdash for editing chapters 3 and 5.
Chapters (18)