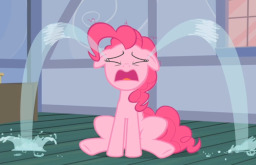 This story was inspired by Twilight Did WHAT?!
Suddenly hearing Pinkie Pie screaming, Eric Reed ran as fast as possible to Sugarcube Corner, where he discovers a heavily distraught Pinkie.
Pinkie claims that she did "something awful" by mistake, and when she tells Eric what it is, he can't believe his ears!
However, the context of what Pinkie said she did might be a little different from what she actually did, even if it's still...murder?!
This story takes place after the events of my "A Giant Adventure to Equestria" story, but it's not required to read it first to understand this story. All you need to know is who Pinkie Pie and Twilight Sparkle are.
However, if you want to check it out and learn the OC human character's Eric Reed's backstory, how and why he's in Equestria, and how his bonds with the other characters formed, here's the link, and it's an 18-chapter story.
A Giant Adventure to Equestria
Last but definitely not least, special thanks to TheHardie-Boy for proofreading this story
Chapters (1)