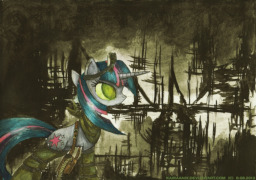 Canterlot... For centuries, Canterlot was the shining gem of Equestria, the pinnacle of pony society. Now, it's a reminder, a bleak and monolithic warning to the world. 
Changed by the chemical and technological poisons that plague the mountain, an abomination of nature, I wander the greatest disaster Equestria has ever seen. 
... I will escape eventually, and when I do, I hope my friends still see me as Twilight Sparkle, and not the monster that hides among the ruins. 
Chapters (10)