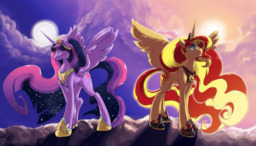 Source
Sunset has been recovering in Equestria following the events of Entropy, rebuilding her home and watching Princess Twilight build the School of Friendship and Magic. She's also dreading an upcoming diplomatic dinner that her status as princess requires her to attend.
But the Cervyderian ambassador brings more than just news of his homeland. The hart also brings a decree for the arrest of Twilight Sparkle, charging her with magic crimes following a series of magic portals being opened and unleashing mythic monsters upon the Glenn.
Circumstances and friendship cause Sunset to follow, but not all is as it seems when they enter the foreboding wood the Deer call home.
Continuity: Homecoming
Edited by Gara-the-Author, Firimil, and Heartshine
Proofread by MySisterBroughtMeHere and Dave Bryant
Art by OverlordNeon
Chapters (26)