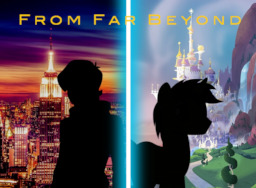 Once upon a time, 17-year old Eric Colby was just your average high school senior. His father worked for TechnoCorp Enterprises, the world's most prosperous science and technology corporation, and Eric himself was doing pretty well in school, for the most part.
But one night, everything changed.
After a series of unexpected events, Eric is suddenly transported into Equestria and mutated into a unicorn by a mysterious genetic sample. Discovered by Twilight Sparkle and her friends, Eric struggles to adapt to his new form, while also trying to uncover a plot that could destroy both humans and ponies alike, and put the whole Universe in danger...
Takes place a short time after the movie, and is canon up to that point. The events of Equestria Girls did not happen during this timeline.
Rated Teen and or some frightening scenes and/or concepts, especially for some moments during the later phases of the story. Feel free to interpret their severity for yourselves. Comments, opinions, and likes are very much appreciated!
(Cover art is a composite image made of a modified Mane Six vector by shadowhillhcr, art of Equestria from orbit by alterhouse, and a vector of my OC Jade Dawn that was modified from an adult Button Mash drawing, author unknown.)
Chapters (6)