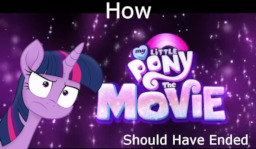 Everyone knows the ponies of Equestria are awesome. But what if, when crisis befalls them, they decide to handle things with a little more common sense?
(A How It Should Have Ended Parody)
NOTE: It is highly recommended that you first watch "My Little Pony: The Movie" before reading this fanfic, just to let you know exactly what's going on.
But who am I kidding? If you're here, you've probably already seen it. Even people who hated it have seen it. I'm...actually not sure why I put this note here. I apologize for wasting a few precious moments of your lives by having you read this pointless Author's Note. Here, have a Kirin to make up for it.
FEATURED 02/03/2019 - 02/08/2019
Chapters (1)