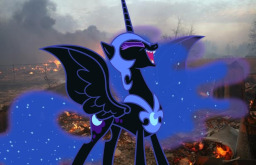 It was a fairly ordinary day in Perkinsville, New Jersey. Then again, most catastrophes start out like that.
Without warning, Nightmare Moon, freshly freed from her imprisonment in Equestria's moon, crash-lands in the middle of the town. Despite Perkinsville–and our entire world, for that matter–not being exactly what she had in mind for conquest, she figures it's better than nothing, and begins a one-mare campaign to bring the town–and soon all of Earth–to its knees in the face of an eternal night.
Who will win this confrontation? Nightmare Moon or the good (but extremely bewildered) people of Perkinsville?
(Rated T for some violence, particularly in the bonus chapter)
Author's Note: This story is in no way related to my other Ponies-meet-Earth story From Far Beyond. It is it's own thing, and is done purely as a side story just for fun. Comments are greatly encouraged...it helps me gauge the audience's response, so if you have any thoughts, don't hesitate to write a comment.
Chapters (2)