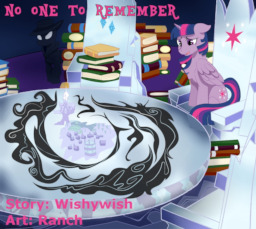 ~Featured on Fimfiction 11/19-22, 2017, and again on 12/9 and 12/16! Thanks so much!~
---
(This story will release in weekly chapters, beginning 11/19/2017 and continuing through the end of the year. Enjoy, and remember that this is a mystery story - if you intend to read, consider doing so before checking out the comments!)
---
Ponyville. The cradle of Equestrian civilization. The tiny hamlet with a habit for producing ponies destined to save the world. Under the cozy eaves of Equestria's majestic capital city above, she sleeps; dreaming of quiet days, glad tidings, and a bountiful harvest.
This is Twilight Sparkle's town; the place where she earned her wings by learning not just to make a friend, but to be a friend yourself. Cider season is nigh, and a birthday party for a dear friend seems like the perfect way to usher in the first snaps of winter's chill. It might very well have been...had that friend not suddenly ceased to exist. Twilight didn't imagine her. Did she?
It wouldn't be the first time things have gone wrong. But it could be the last.
---
Story Specific Cover Art by: Ranch
Chapters (8)