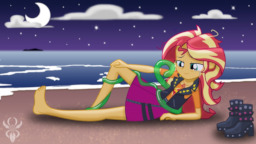 Entry for the 2018 Sunset Shimmer "Journeys" Contest.
---
In a place where pegasi don't move the clouds and no princess walks beside the moon, a young researcher hides early gray beneath her fiery locks. The bags under her eyes are worn in; the friendship she once knew the product of a halcyon childhood. Loneliness makes strange bedfellows, and hers may be the strangest of all. Yet therein she has found a companion - one to whom the gift of her heart is real, and whom she can only protect by vowing never to see again.
Sunset Shimmer travels on a night train, fleeing with her unorthodox partner to their final destination. Only a few hours remain - can she truly let go of everything she has left?
---
Story Specific Cover Art by: legendaryspider
Chapters (2)