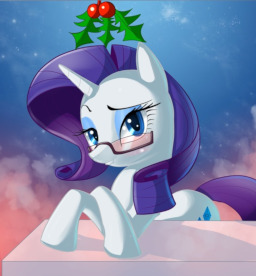 Source
You are a relatively new arrival to Ponyville, but you've made one friend there who's made all the difference. Now, she's coming over to exchange gifts and celebrate! Too bad you've forgotten to take down your mistletoe...
The fourth story in my December Christmas Carol writing project: this is based off...I dunno...Justin Bieber's 'Mistletoe', I guess? (I just thought this was a fun idea to write, sue me :P)
Be warned...there is PG content within!

Cover art by Skyline19
EDIT: Featured less than 6 hours after publishing, on 12/12/17!
EDIT: 2nd Place Featured 12/12/17!
EDIT: Now with an AUDIO READING from LotusMoon!
Chapters (9)