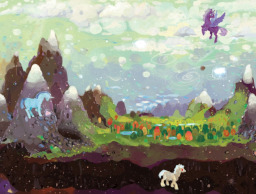 Source
Almost every brony that has ever been in Fimfiction.net has seen a 'HiE as pony' story.
They usually are fairly predictable, with a few plot twists perhaps, but the general pattern is similar.
A mystical force/accident sends a completely unprepared human into the land of the ponies, and he must then undergo a journey of self discovery/destiny, as a human OR pony.
So what happens when a human is actually prepared with all the knowledge he'd need from the first two seasons of the show? And when Equestria isn't quite as predictable as he hoped?
This is that tale.
Writer: JustAnotherEarthPony
Editor: I'mMrNoobHeadFU1
Chapters (12)