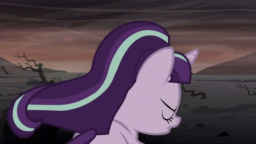 My name is Starlight Glimmer, and I hate bad endings. It isn't fair when some ponies win and others lose, purely by chance. If I had my way, every pony would be equal. Every pony would win. After all, the only other fair thing would be for us all to have a bad ending, and who would want that? This colorless world is bad enough already as it is.
So far, my record is flawless. Never once have I prematurely ended someone's story, never once have I hurt someone more than they can bear. And every time I spare a life, make a new friend? I get stronger for it. Eventually, I'll be so strong I can fix the entire world.
No matter what the world throws my way, I'm never going to give up.
---
Placed second in FanOfMostEverything's Imposing Sovereigns contest, and featured in the Royal Canterlot Library on 4/21/17. Thank you so much!
Expect spoilers in the comments. Inspired by Undertale, but not a crossover.
Chapters (1)