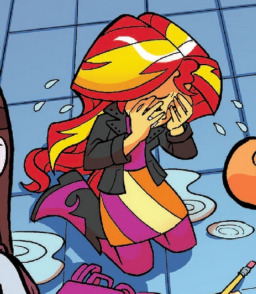 Source
Right before Christmas, in the Equestria Girls world, Anon-a-Miss was cyberbullying the students of Canterlot High. Everyone accused Sunset Shimmer of bring the perpetrator. It hurt her so badly that she decided she wanted to take her own life. However, she is saved by hearing a certain holiday song on the radio. This inspires to stay strong during the holidays. Takes place during the Equestria Girls Holiday Comic.
WARNING: Contains spoilers for the comic.
Rated T for swearing and a suicide attempt.
I do not own the song.
Chapters (8)