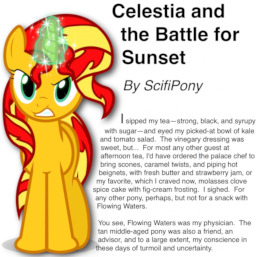 Source
When Celestia discovers the Queen of Cliffside—a golden pony with a red-streaked yellow mane, somepony very much like herself when she was a filly—she learns harsh lessons about the errors of her ways as she works to save Equestria from a curse: herself.  Sunset Shimmer, for her part, is not amused.  One of the pair proves more magical. Spoiler: They don't get along.
(Minor revisions made Sept 2017.)
---
Sunset Shimmer Goes to Hell is a sequel to this story told (mostly) in Sunset Shimmer's point of view. The backstory in this work, told in Celestia's point of view, comes to life in To Bring Light to Eternal Darkness.
---
The image is by FLASH DRAW on Deviant Art.
---
A big shout-out to my #1 pre-reader, Do Contra. Contrary to his belief, he has a pretty good editorial voice.
Chapters (1)