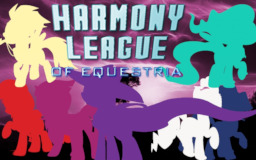 Dark times have befallen Equestria.
Starlight Glimmer has betrayed Princess Twilight Sparkle's trust, using her magic and the Cutie Map to force multiple realities to merge. Changeling swarms, Sombra's armies, and nightmarish creatures from the Everfree Forest have overrun Equestria, plunging it into a state of war, confusion, and despair.
Outnumbered, overpowered, and running out of time, Princess Twilight Sparkle comes up with one last, desperate, insane idea to save Equestria:
She recruits heroes that exist in comic books to fight for Harmony.
On hiatus.
Chapters (2)