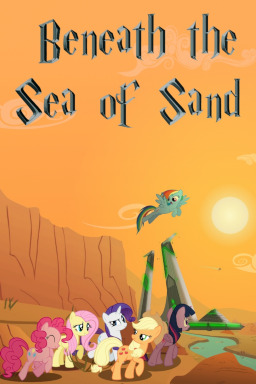 Source
This story is a sequel to Across the Sea of Time
---
[First Person] [Alternating Perspectives] [Science Fantasy]
The Sea Series: Book Two (Alpha)
NOTE: You do not need to read the previous book to fully enjoy Beneath the Sea of Sand.
The changelings of the Emerald Hive are known mostly as a highly reclusive bunch of people squatting under a hill in the Equestrian Badlands. Ponies living near their hive have reported strange happenings more often than not, weird lights in the sky at night, strange sounds, and the fact no pony who has visited has ever said more then a few words about their hive at all have made many ponies uneasy over the years.
After an attack on a Diamond Dog mine to seize a large amount of Arcaneite, the Emeralds Queen is revealed to be Phoenix, the AI of an alien starship changeling hive spent generations repairing. To many ponies amazement, Phoenix quickly made an offer of mutual assistance and advanced technology in exchange for food for her changelings.
Celestia decides to accept Queen Phoenix offer, but with one condition: Twilight, her friends, and their immediate families must first live within the Emerald's hive for a year to learn if their cultures are compatible, and what dangers her technology might present.
---
Beneath the Sea of Sand is a work of Science Fiction, specifically the Science Fantasy genera, which combines tropes and elements from both science fiction and fantasy. You can expect to see magic and all things FiM (made a bit more Swords and Sorcery), and also crashed alien space craft, AIs, high technology, and themes meant to explore the human condition.
Beneath the Sea of Sand is inspired by FiM, my old D&D games, the works of Isaac Asimov, Clive Cussler, and Douglas Adams. While there is a running joke and plot point involving Star Trek, you do not need any knowledge of Trek to enjoy Beneath the Sea of Sand.
---
Proofread by the Amazing Timuri
Dedicated to NFire, Bringer of Good Fiction, Architect of Legacy.
Chapters (11)