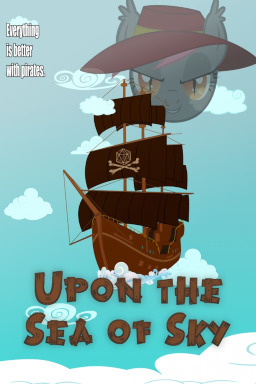 Source
This story is a sequel to Across the Sea of Time
---
[First Person] [Alternating Perspectives] [Science Fantasy]
The Sea Series: Book Two Beta
NOTE: You do not need to read the previous book to fully enjoy Upon the Sea of Sky.
After dying while saving the Emerald Hive, being reincarnated as a batpony, and elected the leader of a "to be formed" pirate crew, Kaily, now Captain Stolen Ruby has to find out what exactly the DMs meant by 'magical Reaper Invasion', and try to stop it. At her disposal is a single three masted galleon, a former pirate captain, powerful but irresponsible wizard twins, a pyromanic dragoness, an arcane engineer, and a hazy idea of what doom she is meant to stop.
---
Upon the Sea of Sky is a work of Science Fiction, specifically the Science Fantasy genera, which combines tropes and elements from both science fiction and fantasy. You can expect to see magic and all things FiM (made a bit more Swords and Sorcery), and also crashed alien space craft, AIs, high technology, and themes meant to explore the human condition.
Upon the Sea of Sky is inspired by FiM, my old D&D games, the works of Isaac Asimov, Clive Cussler, and Douglas Adams. While there is a running joke and plot point involving Star Trek, you do not need any knowledge of Trek to enjoy Upon the Sea of Sky.
---
Proofread by the Amazing Timuri
Dedicated to NFire, Bringer of Good Fiction, Architect of Legacy.
Chapters (7)