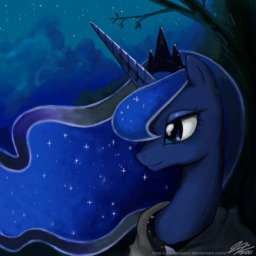 It's an older sister's duty to push the more stubborn sibling to do what's good for herself. It may seem harsh at first, and it may take weeks of it to have the whole thing work out, but it'll work out sooner or later... At least Celestia hopes for Luna's sake.
Banished into the morning, Luna must take on the most challenging task she has ever faced. One of which she herself does not know if it is at all possible. Is it possible? Perhaps no one will ever know.
Picture provided by *johnjoseco of deviantART.
Tie in piece to: Elements of the Past and The Legacy of Harmony. As well as other chaining stories.
Chapters (5)