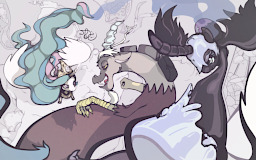 After a thousand years of putting up and worrying about Discord's shenanigans, Celestia moves for an ultimatum. One shall stand, and one shall fall...
Watch as Celestia and Discord lock in a battle of epic levels... On a sports field! Watch as friends are pinned against each other in nonsense!
And you can help! Discord AND Celestia both have to have teams of 10-15... Anyone/anypony can be on either side... But they need a reason. You can pick them out if you want.
This is my gift for 300 followers. Enjoy!
Chapters (2)