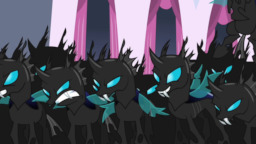 Source
Twilight Sparkle gets the chance of researching and questioning the first live specimen of a changeling since the Canterlot invasion three years ago.
Twilight goes in with a scientific mind and wants to figure out everything about these evil bugs, as clearly they have shown themselves to be nothing but cruel in the past. However, in an attempt to find a cruel primitive being, she instead finds something she did not expect.
A teacher.
Story Tags and notes: There is going to be no explicit sex in this story, but gender, sex, and general reproduction will be a subject, as well as love, affection, morality, society and any other subjects that boggles my mind.
This story is something I made out of a combination of my own headcanon for changelings, and with my frustration, yet love, for philosophy, which I study at writing moment at university. This story will have slow updates, but I will work on it. This is as much a work for me, as it is for you.
I hope you´ll enjoy.
Chapters (3)