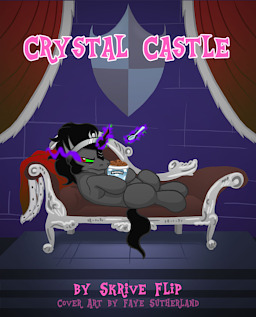 Source
King Sombra survives his supposed destruction by the Crystal Heart. However he is thrown far away in the process, left in what seems to be a frozen wasteland.
Defeated, humiliated and barely even alive, Sombra must rebuild himself from the ashes, and find a new home.
How will Sombra live? Will he be able to accept his failure and defeat?
And what does a former monarch do when he has lost everything he fought for?
And why does the world just not want to leave him alone?
Story Notes:
The sex and gore tag is not because that is the main focus of the story, it is simply a warning that if you want a story with absolutely NO sexual refferences, or gore at any time, then you most likely didn't make a good choice of picking a story about a unicorn who was known to have slaves.
And Dark tag is not due to everything being dark or depressing, but that its some dark subjects that is going to be brought up.
I wanted to put comedy, but the sad is just balanced out, and I wanted to put Slice of life, but really, its more of an adventure for Sombra.
Any comments are appreciated.
Cover art by my amazing friend 50-Shades-Of-Faye
Chapters (9)