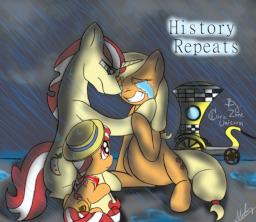 Flim and Applejack are a young, happily married couple with a beautiful daughter named Apple Cider. Applejack, now with another child on the way, was living a great and peaceful life with her husband and her little girl.
However, with the 25th anniversary of her parents' death drawing near, she begins to start feeling very uneasy. When her husband, Flim, gets a letter from his little sister telling him that she's ill, AJ begins to fear for the worse the moment she's told that he's going on the week the anniversary falls on.
She begs him not to go but he tells her that nothing will happen to him and if anything happens while he's away, he'll come back at once.
What started as a beautiful thing.... can end in tragedy....
Cover art made by Marking
Chapters (1)