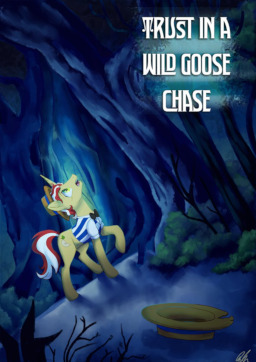 Source
"I'm afraid I know exactly who I'm messing with, Flim Skim. And I know exactly why. And I know you don't know the same about me. Therefore, I am at the advantage... aside from the obvious hostage, of course."
A mysterious horse appears in the dead of night, and brings a catastrophe on the Flim Flam Brothers that neither of them could have ever been prepared for: he kidnaps Flam, and leaves Flim with only a set of strange instructions in order to get his brother back. He must search all over Equestria to find certain things written on a scroll, and he must find the most reliable pony he knows to lead him to the Mordant Phooka.
Unfortunately, when he finds her, she doesn't know if she's willing to help him out. Just how is she supposed to trust him after all he's done? How does she know it's not another scam, or some way to get back at her for messing up the twins' schemes before?
When the only other pony in Equestria who Flim trusts most besides his brother is Applejack, how is she supposed to trust him back?
Edit: The amazingly talented C-Puff has generously and amazingly drawn an amazing cover picture for my story (did I mention it and the artist are both amazing?) Please give the amazing C-Puff a huge round of brohoofs! (and also tell them they're amazing. And go see C-Puff on deviantart!)
Chapters (9)