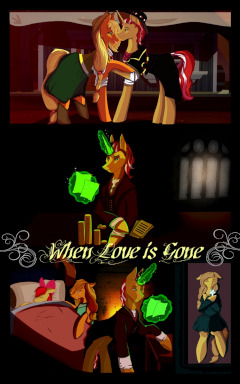 Inspired by the song "When Love Is Gone," from Disney's "Muppet Christmas Carol"
---
One year, during Ms. Jubilee's Hearth's Warming Eve party, a young apprentice, by the name of "Flim Skim," is introduced to a young maiden named "Applejack" and it's love at first sight. About a year later, they are engaged to be married and no one is more excited than Flim's little sister, Elaina, and his future sister-in-law, Apple Bloom.
However, through the years, Flim's work takes his priority over Elaina, his fiancée and future sister-in-law. What he doesn't realize that he's losing the three most important mares in his life... one romantically and two fatally.
Cover art by MirtaLimeBurst!!!!!
Chapters (1)