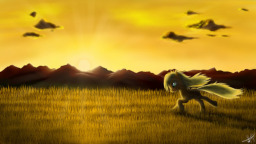 Source
Dear Princess Celestia,
I'm sorry I haven't written in a while. I guess I don't exactly learn anything Princess-worthy every day. I don't really think the others do either -write letters that is- but I haven't exactly talked to them in a while. You can understand why.
I... don't want this to be a sad letter. I don't think you need any more sadness in your life, and I'm good too. So this is just a normal letter.
Chapters (1)