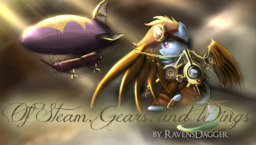 This story is a sequel to Of Solicitude
---
Ten years after a massive war, Equestria has changed. The Empire now rules over all, giving peace and prosperity to those that deserve it, but some are against this new rulership.
The CMC, a small, raggedy group of smugglers working for the Apple family, are caught red-hoofed by an Imperial patrol. As the friends fight for their lives, they learn about themselves, each other, and the world they now reside in.
Meanwhile, in Canterlot, Emperor Blueblood has amassed a massive fleet and is preparing to smash what is left of the rebellion under the oppressive hoof of his Empire.
Fantart:
http://www.youtube.com/watch?v=cSqZZHhQa_I
http://www.youtube.com/watch?v=JE7m2dk8FB4&list=UUS5YHp6kB61DHIXt8THr4iQ&index=1&feature=plcp
Chapters (26)