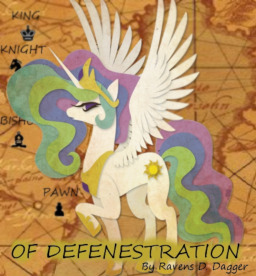 This story is a sequel to Of Challenges and Kisses
---
Fresh out of the Academy, Featherweight's finally got his wings, figuratively, of course. He's now a first-class Navigator, with no idea of where he's going with his own life, much less an airship. Fat load of good those classes did.
Much to his dismay, The Sol Aeternus, flagship of Celestia herself, plucked him off the streets as soon as he made it out the door.
The diplomatic mission to the western lands of the Crown runs afoul when the Aeternus meets an angry fleet. With few other options, and none of them good, Celestia, Spitfire, and the worst navigator on the ship escape west, directly into Crown—and maybe enemy—territory.
Written in the same timeline as: Of Solicitude
Chapters (1)