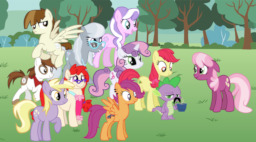 Five years. Five years have passed since Cheerilee chose to quit as a teacher. She had thought that life was behind her, but finds herself drawn back in, compelled to help her former students through their teenage years.
She will discover more about both them and herself then she thought possible.
Carrying more emotional baggage than her students, she will find that the journey to self-forgiveness, while not an easy one, is not one that can be ignored.
(Thanks to BluRoseFriendship for the temporary cover image.)
Chapters (9)