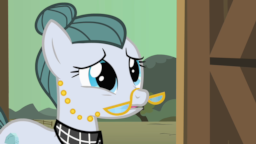 Maud is out on an expedition, earning her rocktoriate.
Pinkie lives in Ponyville and is a part-time baker, part-time savior of Equestria.
Inky and Blinky are now crystal harvesters in the Crystal Empire.
Ever since her daughters found success outside of the family farm, Cloudy has been overjoyed. Yet, something still lingers when she walks the quiet house and grounds.
Why does she feel so lonely without them?
Chapters (1)