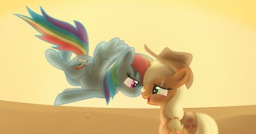 Source
Applejack and Rainbow Dash have been close friends for a long time and, for some reason Rainbow Dash has never been able to understand, it seems as if everyone she knows expects them to get together eventually. To Rainbow Dash's surprise, Applejack abruptly decides that their friends are right and asks her out on a date. To Applejack's surprise, Rainbow Dash immediately turns her down.
Unfortunately for Rainbow Dash, Applejack is nothing if not stubborn, and she declares that she won't give up until Rainbow Dash has agreed to go on a date with her, no matter what it takes.
Winner of the second AppleDash group contest.
Chapters (4)