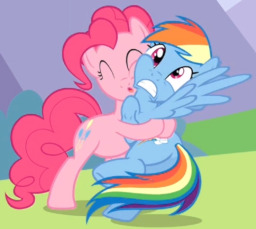 Pinkie Pie magically glues herself to Rainbow Dash. Rainbow Dash isn't happy about it.
For Dash, what's really terrible isn't that Pinkie is going to be stuck to her all day long, it's that Pinkie hugged her in public, where everypony could see them! But why does Dash care so much about other ponies seeing her hug her friends?
And why does Pinkie Pie like hugging her so much, anyway?
Chapters (5)