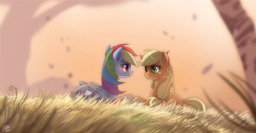 Source
It's obvious to everypony, themselves included, that Applejack and Rainbow Dash have romantic feelings for one another. The only reason they're not together is that they're both convinced that a relationship between them could never work out. Rarity, on the other hoof, is convinced that it could, and Rainbow Dash agrees to a 'three date trial' to prove her wrong...
Many thanks to Ruhje for the amazing cover art!
Original (OLD) version here.
Chapters (6)