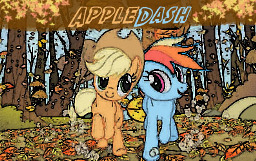 Seasons one and two are now complete! Season three is being continued in The AppleDash Project: Wherever Life Takes Us.
The AppleDash project is a series of short fics attached to various episodes, detailing a relationship between Rainbow Dash and Applejack behind the scenes. The stories take place sometime during or shortly after the indicated episode.
This is not meant to start shipping wars, argue that AppleDash is canon, or offend other shippers. In fact, if you like the idea I encourage you to try it with other ships!
Teen rating means that there may be talking about sex, and there is one line of dialogue that takes place during intimate relations, but it's warned for and skippable. Nothing sexual is described.
Chapters (21)