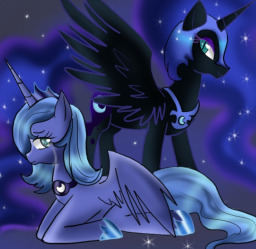 Source
Upon her return to Equestria one thousand years after her banishment, Princess Luna struggles with her weakened body. Clumsy and left without magic, she searches for the key to returning to her true form. But is that really what she wants?
~A melancholy but heartwarming tale, explaining one possible take on Luna's change between Seasons one and two~
Big thank you to the88cherryice on deviantart for the awesome cover art! Click the Source link under the image to find her!
Chapters (2)