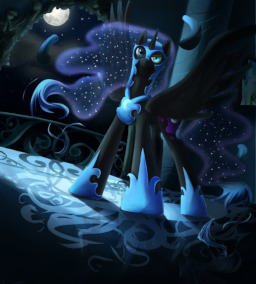 Source
The Elements of Harmony were unleashed against Nightmare Moon in a climactic clash, as was predicted a thousand years ago. With Nightmare banished and Princess Luna restored, life in Equestria is fairytale perfect. But just what was the relationship between Luna and Nightmare Moon? Was it as simple as the old books portray, or was there something deeper going on?
When Luna joins her sister in Canterlot Castle truths will need to be revealed, and the shadows of history rolled back. Sisterly harmony will be at stake, and trust will be tested in the aftermath of the return of the mare in the moon.
My first fic. If it ain't obvious as you read along, I am not a pro caliber writer, although I do try for proper grammar, spelling and the like. I will add chapters as work/life/free time permits me.
Chapters (8)