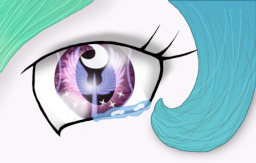 Source
Princess Celestia has always been an incredibly busy pony who never has enough time in the day to do what she wants. Time seems to slip by as she struggles to get all of her work done.
One day, however, something terrible and unexpected happens, and more time than ever is lost to the sands. When Celestia reawakens, she'll find that her entire world is gone and that almost everything she knew and loved has long since disappeared.
A tale of sadness and of tragedy, the likes of which not often seen. Celestia, Princess of the sun...grand ruler of Equestria, and loving sister. Painful are the tears she will shed, and broken her heart will remain.
There is no greater pain than that of utter helplessness.
Chapters (11)