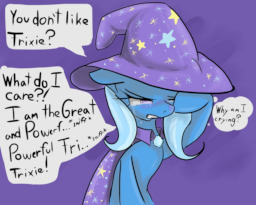 Source
Life is a series of ups and downs, something that Trixie Lulamoon has been taught since day one, and something she takes to heart down the road. Be it a slap, verbal humiliation, an Ursa, or just finding food to eat, life has thrown Trixie for a loop. But it's not over, and there is always the chance to get back up and make something of it all.
A look at Trixie before, during, and after her appearances on the show. What was it like to be Trixie? Her family life?
In canon with the same universe as "We Remember Everything" but the first chapter is a standalone story does not require having read the original at all. The first chapter is a standalone story that just so happens to set up Trixie's appearance there, while future chapters delve into the actual events of We Remember Everything.
Cover image by ACharmingPony on Deviantart
Chapters (2)