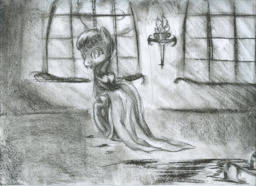 Source
Octavia Four-Strings Melody was a mare with many tastes for the finer things in life.
Fine wine, red of course.
Fine music, given that she plays it on her cello.
Fine parties, just like anypony born into a wealthy and noble family.
And like any other mare, a taste for fine stallions as well.
But when that taste goes awry, can Octavia find the stallion sent after her by Celestia herself, or will she be caught and burned alive just like the rest of her kind?
< Coverart and inspiration from this artist: Link >
Chapters (1)