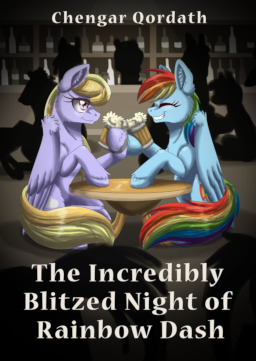 Rainbow Dash and Cloud Kicker have been good friends for years now. But when Cloud Kicker comes to Ponyville for one last visit before heading off to join the Royal Guard, Rainbow has to face some difficult questions about just what she wants to do on what might be their last chance to hang out in a long time. Her decision might be a little easier to make if Cloud spent less time thinking about banging and more time thinking about her awesome friend, Rainbow Dash.
Obviously, this calls for a night on the town. And booze. Lots and lots of booze.
Part of the Winningverse.
Chapters (2)