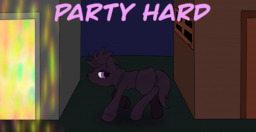 Sparkler has been waiting for Neighvana to come to Ponyville for months. Of course, the night they're in town, she has to babysit her sister. What's a mare to do?
Cover art by the wonderful Snow Quill
Many thanks to Emotion Nexus, Sunlight Rays, The Bricklayer, and garatheauthor for prereading and editing!
Placed first in the Quills and Sofas Sparkler contest, with the prompt 'Backup Plan' or 'I've got this!'.
Chapters (1)