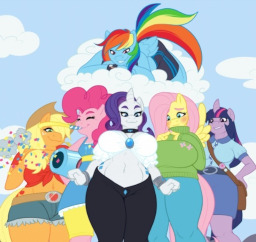 As I opened my eyes, what I saw in front of me shocked me. There are 6.....creatures staring at me with curiosity, probably because they have never seen anything like me before. I know they are females. Need proof? All I have to say is, Boobs. 'Nuff said.
(Anthro Ponies)
=•=•=•=•=•=•=•=•=•=•=••••
Hi guys. Hope you enjoy reading this!
(On a different note, THANK GOD THERE'S AN ANTHRO TAG NOW!)
Chapters (13)