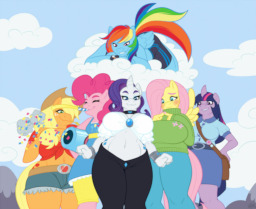 Source
There are people who live life and enjoy it's ups and downs;
regardless of how high or how low their journey takes them.
Vasili Anatolyevich Maksimov is not such a person. He has lived an exceptional life in a very short time in every sense of the word. It has been both exceptionally traumatizing and exceptionally rewarding. He rose from the depths of an abusive childhood that has left him in possession of a brilliant, if not deeply broken mind to touch the much valued reward of invention and comradeship. Only to find such treasures ring hollow in his jaded world view as his past is always on the tail of his today filling his life with pain.
Events beyond his understanding have trapped the broken misanthrope to a world so much like his own and tie the disaster he considers his life to those of six mares, each one loyal, kind, generous, honest and full of laughter; whose inherent nature may have the magic needed to mend his damaged self once and for all.
Now with Editors! From Chapter 2 Forward!
---
Open Author's Letter
Finding Home, Discovering Life is an HiE (Human in Equestira) story, the ponies are Anthropomorphic just to let you know. Despite my description of Vasili "Vas" Maksimov above, you will notice the sad tag has been left out, that's because it is my goal to make this a story about hope and healing triumphing over inner darkness and deep emotional scars; it's also why I left out the tragedy tag. The Sex and Gore tags are there because I want to take the story into adult situations that will deal with everything from Vas's child abuse to an exploration of a budding relationship across species and the very real issues that may arise. Finally, while at this time there is no fate of the world adventure planned for this story yet it still has the Adventure tag, I for one can't think of any greater adventure than discovering a whole new world.
The story is a challenge to myself. An exercise in character development, world building and vocabulary. As always I don't have an editor, but I love feedback positive or negative, so feel free to leave it.
I hope you enjoy "Finding Home, Discovering Life"
P.S. Cover Image is by the very talented SuperSheela over on Deviantart.
Great Buffalo of Mark Ruffalo! Featured day one! Thank you all! Your awesome! I hope I can keep you entertained!
---
Chapters (6)