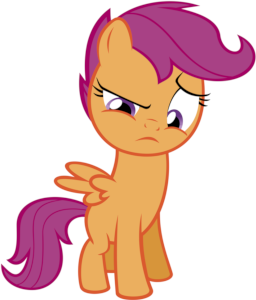 Source
`Scootaloo hung her head glumly, her right fore-hoof absently drawing an indistinguishable pattern on the wood of her desk. Her purple eyes drifted wistfully to one of the windows. The sun was shining and a light breeze was blowing, a perfect day to be out.
But she was stuck here.
With both of her friends sick one day from school, Scootaloo has to find somepony else to hang out with. Terrible taunts, slimy spitballs and errant TV quotes ensure.
Chapters (1)