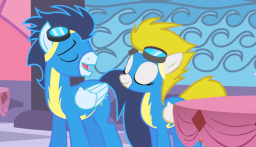 Source
Soarin bit his lip in annoyance. "That's blackmail."
Surprise smiled innocently. "Oh is it? I didn't realise!"
An opening of an art exhibition featuring the Wonderbolts premieres in Canterlot, drawing crowds of enthusiastic upper-crust ponies along with two much less enthusiastic Wonderbolts; Soarin and Surprise. Readying themselves in for a long and boring night of photos, autographs and hanger-oners, the unexpected arrival of a guest opens a door to Soarin's past; a door Surprise is all too happy to pry open a little further...
Chapters (1)