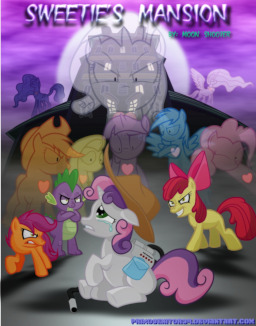 (Credit to Primogenitor34 for Cover-Art)
(Credit to smellyfeetyouhave and Thunder Blaze for the old cover-art)
(Now 20% CYOA... okay maybe a little more than that. Please use the [Continue] option to go from Chapter to Chapter. If you just want the straight up story, go green)
"It's going to be a long night..."
When a mansion appears out of nowhere in the outskirts of town, The Mane 6, are all invited to a housewarming by Specter Yield, the owner of the strange mansion. Hours after they leave to attend the party, the Cutie Mark Crusaders find themselves in this mansion. Eventually, Sweetie Belle finds herself alone in this massive mansion, trying to save her friends, and discovering the truth behind this haunted mansion. Will she be able to rescue her friends... and possibly all of Equestria from the ghostly presence?
Chapters (44)