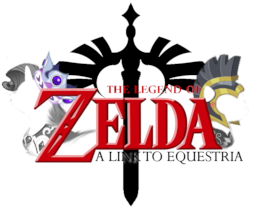 In his search for someone dear to him, the Hero of Time is tricked by a fairy spirit and drawn to Equestria, where he soon finds that both realms share not only long lost connections, but also enemies both thought gone. With the alliance of Hyrule's greatest nemesis with the thousand-year-old menace of Equestria set on permanently ridding themselves of those who foiled their plans, it'll be up to the Elements and a boy to once again take on their roles as heroes and unearth a history few even know of.
Artwork:
Legend in the Making (CMC): http://fav.me/d5u6mgh
Olivia: http://fav.me/d5th7n2
They're after you (Poeny and AB): http://fav.me/d5moavt
Applebloom: http://fav.me/d5em3dv
MLPxLegend of Zelda crossover (if that wasn't obvious ahah)
Though not much prior knowledge of the Legend of Zelda series is required, you may not recognize some names if you're a stranger to the franchise. Takes place after Ocarina of Time, but before Majora's Mask.
(20-12-12) Chapter 1 has finally been rewritten!
Chapter 2 has also been corrected and updated!
Chapters (21)