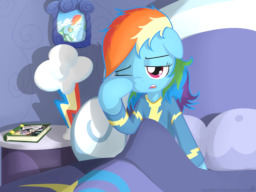 Hi, my name is Markus.
I thought it was going to be a normal Sunday morning. Boy, was I wrong. Not even out of my bed I discover that I am now Rainbow Dash... and I'm still on Earth. In wake of my sudden change, I try to handle the situation with my knowledge gained from the fandom, my inner brony writer helping me along the way. However, as I soon find out, I'm not the only one with this problem...
Just a self-insert thing I started to get rid of a bout of writer's block. I don't care if it's liked or hated, so enjoy. Please remember, criticism is greatly appreciated, as is praise.
EDIT: For other stories in this universe, PonyEarthverse
Chapters (26)