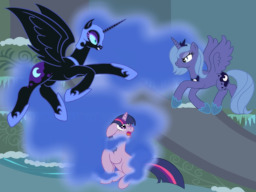 Source
This story is a sequel to In the Eye of the Storm
---
A half-remembered dream leads Twilight Sparkle to test a new "window" spell by looking at an alternate Equestria. What she sees there will lead her and her friend Princess Luna into adventures they had never imagined possible. A season one fic.
As featured on Equestria Daily.
This is technically a sequel to In the Eye of the Storm as it's using the same versions of Twilight and Luna, but you can absolutely read this story without having read that first.
I began writing this story during season 1. I've updated some things to reflect canon changes in season 2, however at that point I decided that having to constantly go back and change things every time something new happened on the show just wasn't going to work, so the story ignores most of season 2, and everything from season 3 onward.
This story owes much of its quality to Jordanis, who is practically the co-author at this point.
Chapters (14)