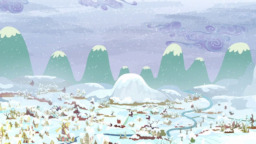 Source
In order to make sure her class knows a little more about the world, Cheerilee has them exchanging letters with children in other nations. This allows her students to learn about truly foreign concepts, like 'snow day'. And the mere concept of having a random storm grant an unexpected holiday has taught the Crusaders something big: that Equestria is the worst place in the whole world, because the weather schedule means that's never gonna happen.
Surely there has to be a way to get a snow day of their very own. Surely...
...so what's the fastest way to summon a windigo?
(Now with author Patreon and Ko-Fi pages.)
Cover art from an image created by LunaticDawn.
Chapters (1)