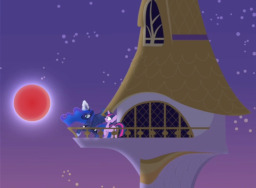 Source
This story takes place shortly after Season 2 Episode 4 "Luna Eclipsed".
Twilight is surprised, and a little concerned to receive an invitation to meet with Princess Luna at Canterlot Castle.
Could she be wanting to settle a score over Nightmare Moon, or does she perhaps have another purpose in mind?
* Featured at #4 on the banner 07/09 - thank you all! *
Chapters (4)